SAN PEDRO FIFA LEAGUE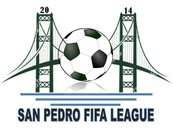 SAN PEDRO FIFA LEAGUE
San Pedro FIFA League
ABOUT US
We are a dedicated group of soccer fans that came together to create a FIFA league after realizing that we could do better than just host stand alone tournaments. After all, a trophy earned over the course of a season is much sweeter! We kept the tournaments, but in our league we also have actual seasons that last months to provide a fun and realistic managerial experience! Buy new players, play with your team, and watch their ratings go up or down as they perform in real life, all the while competing with your friends as you fight to create your own dynasty. Welcome to the San Pedro FIFA League.
GETTING STARTED
You start out drafting 19 players rated 76 and under by simply sending in a list of names to the commissioner (see the "Rosters" page under documents to see who's already taken). You will then be given 15 million euros to bolster your team with no player rating restrictions (see the Transfer Funds page under documents). Transfer fees will be set by this website: http://www. transfermarkt.com/, but you can buy players from other managers at negotiated prices.
You will start off in the lowest division, but don't worry, we have a promotion/relegation system in place! You will play each team twice in a season and will record the results by posting a photo of your match result to our Facebook group. This picture will include goals, assists, cards, and injuries for us to record. We have a schedule up, but it is very flexible and all you must do is play your games against your scheduled opponents in that designated month (seasons are about 6 months long). At the end of each season, you will receive a transfer fund reward based on your finishing spot. We also hold tournaments a couple times every season, which also have payouts depending on your finishing position. Feel free to play managers in friendlies or wager matches (a non-league game where two managers bet their transfer funds).
It is a competitive league, but mostly it's fun pitting your created team against someone else's team, and trying to build it into a powerhouse over the seasons. We have some guys that are good at FIFA, and others that are bad. But if you enjoy FIFA and enjoy following soccer, you will for sure have a great time! See our League Charter (can be found our documents tab) for more details on the rules and structure of the league.
JOIN NOW
We would love to have you join the league! In season or not, join ASAP to make those initial 18 players you want yours, play friendlies, and join tournaments. As soon as the next season rolls around, we'll be sure to put you in it!

Before you join though, we do ask 4 things of you:
1. This is a PS4 league, simply because you have to be able to play online games (we have guys from all over the country), so cross-platforming wouldn't work.
2. THE FIFA STRESS IS REAL. We just ask that once you start a season, you stick with it. If you want to leave after, we will just be grateful you played with us for one season!
3. Scheduling games can be difficult. It takes some personal commitment to find out who is who, get their contact information, and set up a time to play. So brace yourself for that. We have a "Team Contact Info" document where everyone's contact information can be found.
4. You do have to make a Facebook account to join our SPFIFAL group. This is our main correspondence with managers, and is vital to make sure you are up to date. If you'd like, you can just make a profile with a pic of your team name so you could join without having to be on the FB map.
If you have any questions or comments please contact Ryan Hart: (310) 619-5955, hrhart@umich.edu
Follow the site to get the latest news and results straight to your email